Banana Blueberry and Coconut Smoothie - Crazy Cooking Challenge - Easy
Edgy photo ... 'cause that's how I roll.
My assignment for this month's Crazy Cooking Challenge was to find a smoothie recipe from another blog, make and post about it. Blueberries are suddenly in season (at least at the local Try-n-Save), so I went a-googlin' for a smoothie of the blueberry persuasion.
Fun facts! According to the
US Highbush Blueberry Council
, blueberries are a rich source of vitamin C and antioxidants, two things I hope will help get rid of a cold I'm currently fighting.
Anyway, lucky for you, Dear Reader, I happened upon
Love at First Bite
. Missy's blog has many healthy and delicious-looking recipes. She has published a book with photos as awesome as the recipes. I'm going to have to take some more time later and really dive into her recipes. But right now one particular recipe on her blog is just right for the CCC ... her Blueberry, Banana and Coconut Smoothie.
I did make a few changes. Since there is more banana than blueberry, I
anally
felt the need to rearrange the title. I omitted flax seed since I had none. Missy didn't mention if the shredded coconut was sweetened and I do have both sweetened and unsweetened in stock, but decided to use the sweetened variety. And I like my smoothies thick enough to cut with a knife so I used Greek yogurt. Add the optional milk if you prefer a smoothie less solid or if you intend to share. I don't and I didn't.
Banana Blueberry and Coconut Smoothie - Crazy Cooking Challenge - Easy
slightly adapted from Love at First Bite
makes 1 large or two smaller servings
2 large, ripe bananas, peeled and cut into chunks
1/2 cup blueberries, frozen
1/2 cup ice cubes
1/4 cup shredded sweetened coconut, plus more to garnish
1 tablespoon honey
1 cup plain Greek yogurt (low or no-fat okay)
up to 1/4 cup of milk (optional)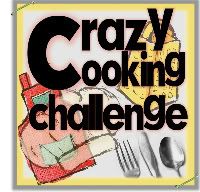 Disclaimer - because this recipe is part of an online cooking group, the linked recipes below might not be kosher.